SPC-LUX Flooring
expand_circle_down Description
SPC-LUX Flooring
Our affordable Luxury SPC Flooring recreates the authentic beauty of real wood. Its unique, classy and will be a cause for conversation. Its multi layer construction means it has all the features required to make it the perfect flooring, for both commercial or residential properties alike.
Why Our SPC-LUX Flooring?
Our Luxury SPC Flooring mainly comprises of limestone. Its 100% Waterproof, Durable and Stylish. Its stain, indentation and high scratch resistant, with an anti-slip and UV Coating.
We understand selecting flooring can be a challenge, as there are so many options – that differ in both price and quality. This is why our team of construction experts have worked tirelessly alongside manufactures, so we can provide you with what we believe is the perfect, affordable flooring product. This can be installed on any smooth, flat flooring, that is clean and dust free.
We have done the research for you – as there are different grades of SPC. Our luxury range of SPC Flooring is the highest quality guaranteed, which is backed by our trusted manufacturing partners. It is the next generation of luxury vinyl tiles, more durable than traditional LVT and alternative SPC products. Choose from our 7 stunning colours and make your dream floor become a reality.
Why Us?
Our customers are at the heart of everything we do
We are a longstanding, highly reputable company
5* Trust Pilot – Rated as Excellent.
Expert Advice Pre and Post Order
How to Guides and Videos to Assist you
FREE Next Working Day Delivery on all orders to the UK Mainland
Installation Service available in Dronfield, Sheffield, Doncaster, Rotherham, Chesterfield and Worksop. Simply submit an Enquiry with your room dimensions and Postcode.
Note: We recommend using a dense underlay beneath our SPC-Lux Flooring. If you do not have a dense underlay, we advise using this in conjunction with our high performing insulating underlay, that is compatible with our Flooring: EcoTec Floor Foam.  
Ready to check how many packs you need? You can use our easy to use Calculator.
Each Flooring Pack Contains 9 Planks and Provides 1.998m².
You can view our Data Sheet for more information on this product and to have a look at your colours.
Our 'How to Video' will also assist you with the install!
If you have any queries at all or would like a quote for the installation, just Get in Touch by submitting an enquiry HERE
expand_circle_down Reviews
expand_circle_down Q&As
What is SPC Flooring?
SPC Flooring is Stone Polymer Composite. It is changing the future of flooring. Our SPC is predominantly limestone and is a hard wearing compound. Its multi layer construction includes a UV Coating, a Transparent Wear Layer a Decorative Film Layer and a Core Layer.
Where can I Install SPC Flooring?
It's versatile, so it can be installed in any room in your home or commercial premises.
Can I Install this alongside Underfloor Heating?
Our SPC is 100% compatible with underfloor heating systems. Whether they are Wet / Dry systems. Its stone powder construction also provides thermal benefits, as it holds heat really well. Due to its components it holds the heat from the underfloor heating longer than flooring alternatives.
Is SPC Pet Friendly?
Our SPC can be enjoyed by you and your pets. It is super scratch resistant and also indentation resistant too.
I have children - how slippery is SPC Flooring?
In addition to its UV Coating, SPC has a textured surface - this provides you with a high skid resistant top layer. When wet, it also has a much greater friction compared to alternatives when wet.
My home temperature fluctuates massively - will this cause me issues with the SPC?
SPC is dimensionally stable; this means even when there are massive fluctuations in the temperature this will not impact the SPC.
What happens if I accidentally drop chemicals?
The double UV coating that is built in provides the SPC with high resistance. This means you can grab a wet mop and wipe any accidental common stains away.
How environmentally friendly is SPC?
SPC is 100% Recyclable - it is made up of virgin polyvinyl chloride and natural limestone powder - both materials are very sustainable and can be recycled.
Will the Flooring be OK with direct sunlight?
Yes - it has a double UV Coating which provides resistance from direct sunlight, which will protect against fading.
Do I Require an Underlay?
Yes - we recommend installing EcoTec Floor Foam beneath. This contains a dense foam and is compatible with this product.
What underlay should I use if I am installing underfloor heating too?
You understandably do not want to counter the benefits of your underfloor heating system - so we have another underlay you can use if you are having underfloor heating. Just get in touch and we will be able to quote you for this.
Why does SPC surpass the performance of Laminate Flooring?
The main benefit is that SPC is 100% Waterproof - Laminate is not, if water gets beneath it can significantly damage the floor by causing it to lift. It is also more susceptible to dents etc.
How does SPC compare to Luxury Vinyl Tiles?
LVC is 100% PVC - making it very soft. SPC has a higher indentation resistance. In terms of installation time SPC is easier to install and also requires less preparation time. For LVC the subfloor needs to be 100% perfect. LVT needs to be installed professionally, whereas homeowners / competent DIYers can install SPC.
How does sheet vinyl / lyno compare?
Sheet Vinyl / Lyno is a very cheap waterproof product. It does however tear very easily and does not stand up to general everyday household living.
expand_circle_down Specification
| | |
| --- | --- |
| Product Type | Stone Polymer Composite |
| Groove | V Groove |
| Size Per Plank | 5mm x 1220mm x 182mm |
| Thickness | 5mm |
| Coverage P²er Pack | 1.998m² |
| Planks Per Box | 9 |
| Residential Warranty (Years) | 35 |
| Residential Warranty (Years) | 15 |
| 100% Waterproof? | Yes |
| Fire Rated? | Yes - EN 9239-1 and ISO 11925-2. |
| Slip resistance? | EN13893 |
expand_circle_down Flooring Installation Service
We understand that not everyone has the time or ability to install their own SPC-LUX Flooring. This is why we have a team of trusted installers, that can fit your flooring for you.
Simply fill out the below short form and we will send over your free, no obligation quotation.
Size Calculator
Instantly find out how much flooring you require for your project! Enter your room dimensions.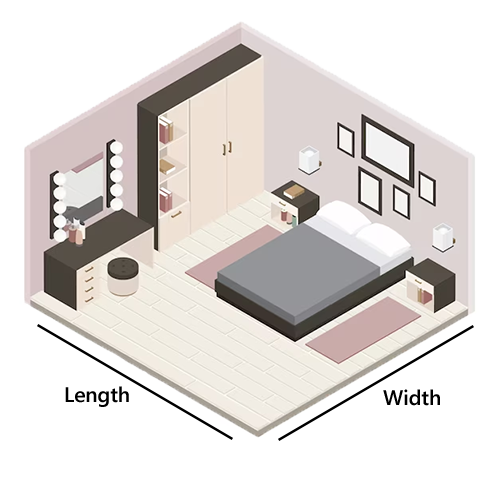 + Add another room's dimensions
Area to be Covered: m2
Packs Required (2m2 Each):
Please note we account for 10% wasteage in the calculation.
Key Features
Choose from 7 Stunning Colours
5mm Thick
Authentic Real Wood Look
35 Years Residential Warranty
15 Years Light Commercial Warranty
100% Waterproof
UV Coating – Resistance against fading
Easy to Maintain
Easy Installation – Unilin Click Locking System
Compatible with Underfloor Heating Systems
Chemical and Stain Resistance
Mould and Mildew Resistance, making is compatible in Bathrooms and Kitchens
Pet Friendly – Scratch and indentation resistance
Dimensionally stable, even when there are fluctuations in temperatures
Fire Retardant – Achieves Bfl-s1 Standard
No Toxins or Gasses Emitted
100% Compatible with Underfloor Heating Systems
Free Delivery to anywhere in the UK Mainland
Installation Service Available (Midlands) Enquire