Airtec Double Insulation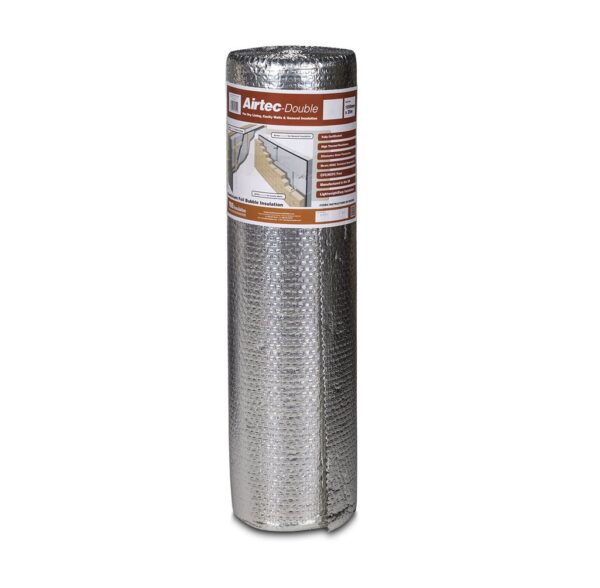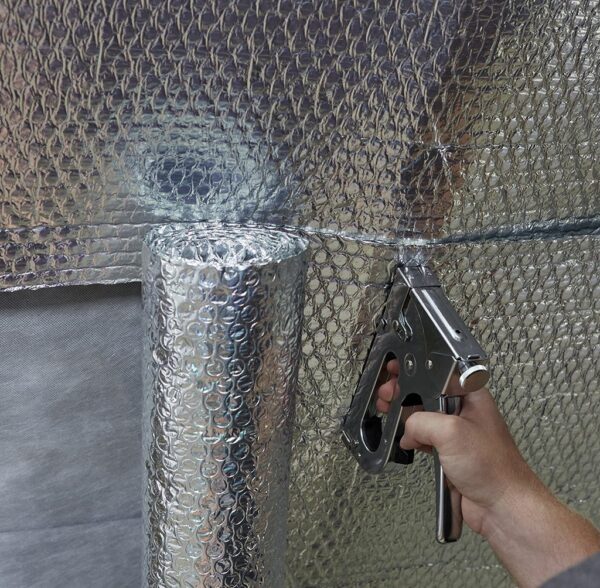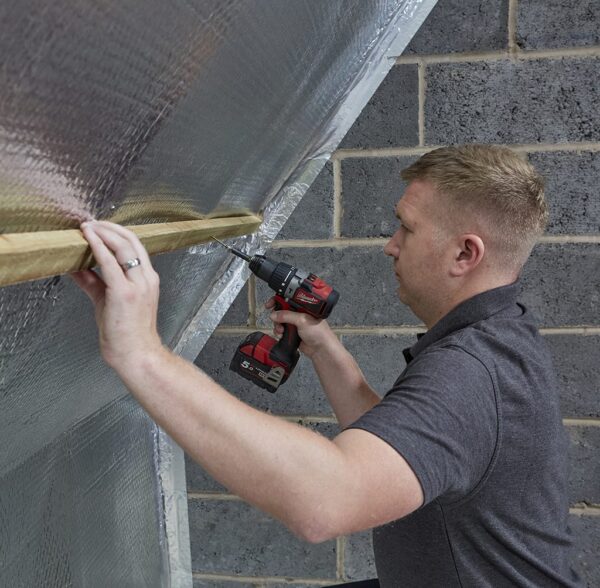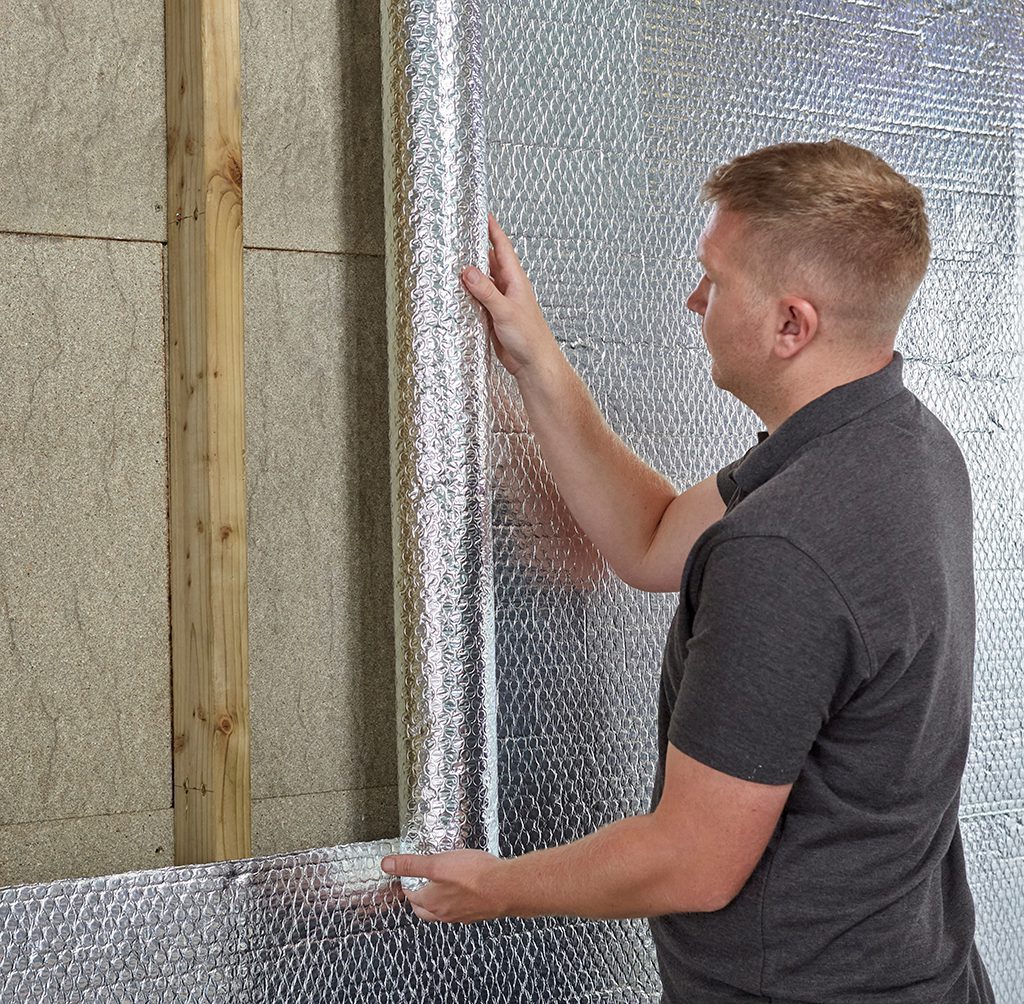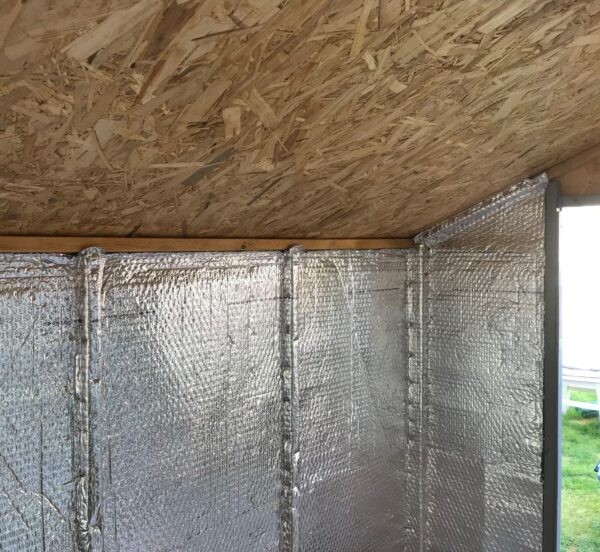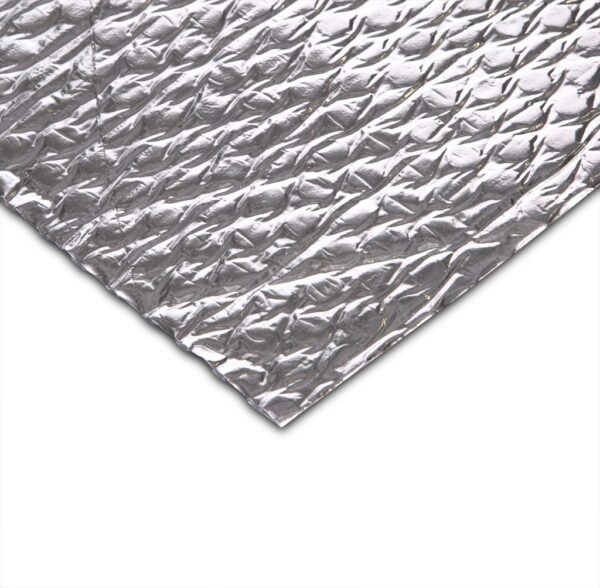 expand_circle_down Description
Best Selling Multi-Purpose Foil Insulation
Airtec Double Insulation is our best-selling multi-purpose Foil Insulation which can be used in various applications such as Roofs, Walls, Floors, Conservatories, Sheds, Summerhouses, Windows and Doors, Motor Homes, Agricultural Buildings & Many More.
Choose from 4 Different Easy to Handle Roll Sizes!
1.05m x 25m
1.05m x 50m
1.2m x 25m
1.5m x 25m
Airtec Double Insulation is made from True Aluminium Foil either side of an air bubble membrane. Reflects 95% of radiant energy!
Equivalent to around 55mm of Polystyrene while only being 4mm thick. It's our most popular insulation for places where space is vital.
When fully taped and sealed using ThermaSeal Foil Tape this product also acts as a high performing Vapour Barrier eliminating condensation.
If you require an even higher level of performance in your project see our EcoQuilt Expert – At 6mm when compressed this product is equivalent to 100mm of Rockwool!
If you're looking to buy multiple rolls of Airtec Double check out or Trade Pallet Deal. This will be at the lowest price per roll avaialble.
See our Fitting & Data Sheet in the Downloads below for more information and fixing instructions!
Request a 'Call Me Back' and one of our dedicated team members can help with any technical assistance you require.
FREE GIFT
Spend £500 + VAT and Choose a FREE GIFT at the checkout!
Free Gifts Include: Thermaseal Foil Joining Tape, Heavy Duty Staple Gun Kit, Multifoil Insulation Scissors or Thermaseal Double Sided Tape.
EcoAirtec Double Reflective Foil Insulation consists of a highly reflective true aluminium foil either side of an air bubble membrane; it is our most versatile fast fitting and lowest cost, high performance Insulation in our range of multifoil materials. All rolls are priced at the lowest Trade prices in the UK or Europe and delivered on a Next Working Day Service within the UK Mainland.
Airtec Double Reflective Foil Insulation is used for hundreds of Insulation projects, including dry lining walls, pitched roofs, walls, floors, attics, garages, greenhouses, under caravans & static homes, conservatory roofs, garden sheds and timber buildings. This is also the farmers choice for insulating agricultural buildings too!
This high performance double aluminium foil is designed to retain heat during the winter months and reflect away unwanted heat during the summer. Keeping your home at a more comfortable temperature all year round.
EcoAirtec Double is a lightweight, time-saving & low cost Insulation material which is equivalent to around 55mm of Polystyrene; it's never been easier to keep warm!
For more information on EcoAirtec please see our Fitting & Data Sheet below.
You can order easily online or by phone by requesting a "Call Me Back", and one of our sales team members will call you within 1-hour to take your order. We deliver carriage Free Next-Day within the UK Mainland on all orders over £100*
expand_circle_down How-To Videos
EcoAirtec Double Insulation - High Performing Multi Purpose Foil Insulation
expand_circle_down How-To Guides
How To Install Airtec Double
Measure Area & Cut Insulation

Measure the area of the section you are insulating. Then roll out the insulation and cut to size. Our insulation can be cut with scissors or a cutting knife, both these can be found in our multifoil fitting kit.

Staple EcoAirtec Double

To gain the best thermal performance it is recommended to have an air cavity either side if the insulation. Staple the insulation directly on the studs or rafters at 300mm centres. Once the next layer is installed, either horizontally or vertically, ensure the product is overlapped by 50mm.

Tape and Seal with Thermaseal Foil Tape

It is vital to ensure the insulation is fully taped and sealed using Thermaseal Foil Joining Tape. Our Foil Tape is 75mm therefore this will cover a 50mm overlap. It is crucial to ensure the insulation is fully taped and sealed over all overlaps and around the perimeter. This ensure the product works as a high performance Vapour Control Layer.

Counter Batten Insulation

Once the insulation is fully covered and taped and sealed, to gain the best thermal performance we recommend installing a counter batten over the top. 19mm deep battens would be suitable, spaced apart around 500mm. This will create a solid finish to screw the internal board to.

Finish with Internal Boarding

Finish the project by installing internal boarding on the battens. Plasterboard, cladding or timber boards are popular options.
expand_circle_down Reviews
expand_circle_down Q&As
Is this product perforated?
Airtec is un-perforated. It works instead as a vapour control layer. Once you have taped and sealed AirTec – you will prevent passage of moisture. This will in turn remove the risk of condensation.
Can this product be used under Laminate?
We would advise using EcoTec Floor Foam instead as the AirTec has air filled pockets, which could decompress under the weight and massively impact its thermal performance. The EcoTec Floor Foam has a dense foam membrane so is better suited for that application.
What's the best way to install this?
We would advise applying AirTec by stapling it, to rafters / battens depending on your application. You should use 14mm staples, which come with our Heavy Duty Staple Gun Kit, if you don't already have them.
Do I need a gap either side of the AirTec?
We do recommend that you have an air cavity either side of the product, to maximise its performance. It will trap low emissivity air within the cavity, enhancing its thermal performance.
Can I insulate over the top of electrical cables?
So long as the cables are not in direct contact with the AirTec, its ok to have the cables underneath. You could always encase them in trunking for extra protection. If you need to pull the cables through the insulation, that is also ok – just ensure you tape and seal around where you have cut.
Is Tape Essential?
It isn't essential, but it is advisable for most applications. To achieve a vapour control layer you need to use the Thermaseal Foil Joining Tape around all of the edges and joints. You can always get in touch via our Contact Us Form, if you would like assistance on any specific application.
expand_circle_down Specification
| | |
| --- | --- |
| Width | 1.05m or 1.2m or 1.5m |
| Length | 25m or 50m |
| Thickness | 4mm |
| Weight | 200g per m² |
| Foil Emissivity | 0.05 |
| Reflectivity | 95% |
| Water Vapour Resistance | 600MNs/g |
Key Features
Highly Reflective True Aluminium Foil
Thin, Flexible and Easy to Install
High Performing Vapour Control Layer
Insulating Air Bubble Membrane
Suitable for All Applications
R-Value up to 2.01m² K/W (Floor)
Available in various sizes
UK Manufactured
Downloads & Resources
picture_as_pdf Data Sheets