EcoPro Shed Insulation Kit
EcoPro Shed Insulation Kit
Unsure how much Insulation you require for Insulating your Shed or Summerhouse? See our Useful Data Sheet Here which will advise which size of the EcoPro Shed Insulation Kit you require!
EcoPro Shed Insulation Kit is ideal for insulating the Roof, Walls and Floors of Garden Buildings. Most popular areas include Offices, Workshops, Therapy Rooms or any timber buildings that require a high level of insulation.
EcoPro Insulation consists of 6 layers of highly reflective foil and wadding and also has a built in vapour control layer when fully taped and sealed using the Thermaseal Foil Tape provided in the kit. At 15mm thick in its open state, EcoPro compresses down to only 6mm thick. This is equivalent to around 50mm of Rigid Board such as Kingspan or 100mm of Rockwool!
EcoPro is designed to reflect away cold during the winter months while reflecting the warmth back into the building. During the warmer months this will do the opposite and reflect away excess warmth keeping the timber building at a more ambient temperature all year round!
In this insulation kit you will receive the following;
1.5m x 10m EcoPro Insulation (15m²)
ThermaSeal Foil Tape 75mm x 50m (1 Roll per 30m²)
Heavy Duty Staple Gun
5,000 x 14mm Staples
1 x Cutting Knife Inc. Extra Blades
Free Next Working Day Delivery to UK Mainland (When ordered before 2pm)
If your timber building doesn't require such a high performing multifoil insulation see our EcoTec Shed Insulation Here. At only 4mm thick this product is great for insulating timber buildings that are being used as Summerhouses, Sheds, Greenhouses or storage buildings.
If you require any further information or would prefer to order by phone you can Request a Call Me Back and one of our dedicated team members will call you within 1 hour.
How To Install Our EcoPro Shed Insulation Kit
How Much Do I Need?
Find out which kit you need for your shed!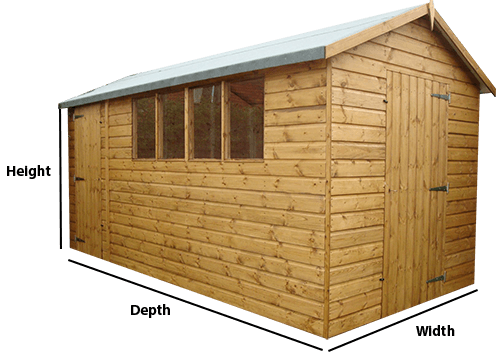 Key Features
Highly Reflective Multifoil Insulation
Includes Foil Tape, Staple Gun, Staples & Knife
Thin, Flexible and Easy to Install
High Performing Vapour Control Layer
Equivalent to around 100mm of Glasswool
Suitable for All types of Garden Buildings
Compresses to 6mm Thick
Reflects Excess Heat Away during Summer
Retains Heat in the Winter Months
UK Manufactured