SuperQuilt Trade – Bulk Pallet Deal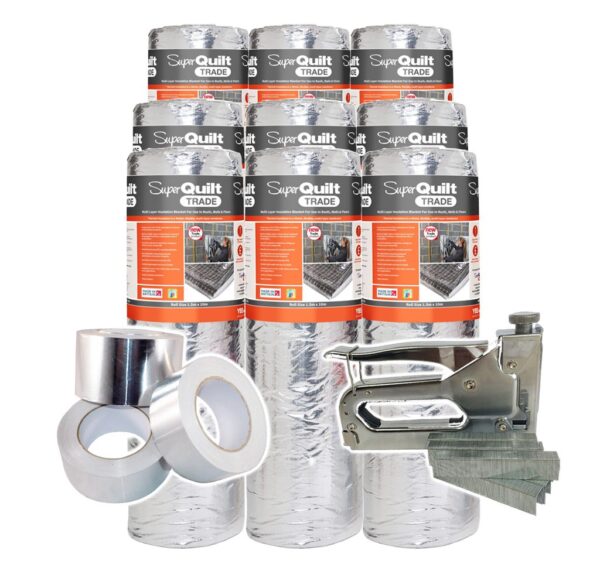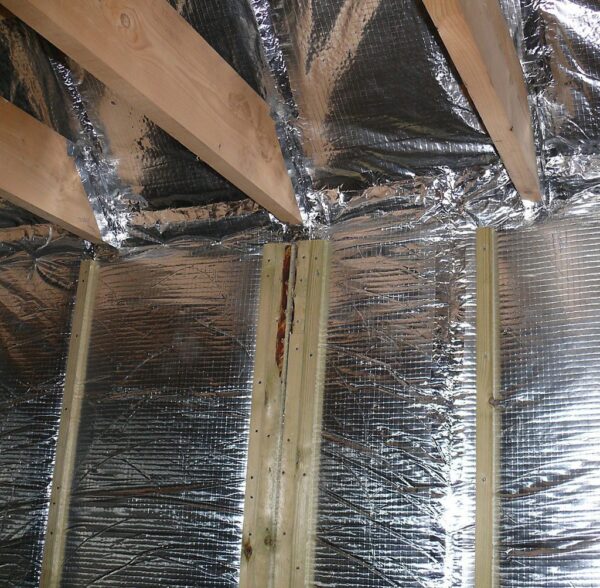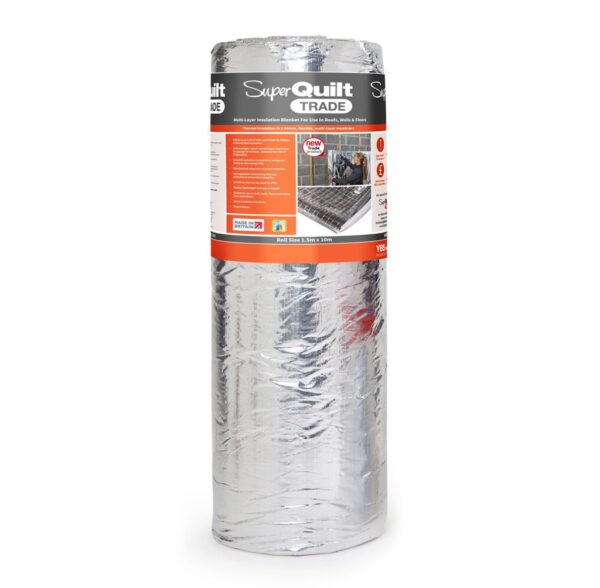 SuperQuilt Trade – Bulk Pallet Deal
expand_circle_down Description
SuperQuilt Trade Discount Pallet
SuperQuilt Trade – Bulk Pallet Deal is a high performing cost-effective 2 in 1 insulation. Offering both a highly effective built-in vapour control membrane and high thermal properties.
The total R-Value for YBS SuperQuilt Trade is up to 2.84 m²K/W, which is equivalent to 125mm of Mineral Wool. It consists of 19 thermally efficient layers with an overall thickness of 40mm. It's also manufactured from 83% of recycled materials.
SuperQuilt Trade is suitable for a wide range of applications including roofs, floors, and walls. Also, No PPE is required to install SuperQuilt Trade because it doesn't contain any itchy or harmful fibers. Each roll is 1.5m x 10m which covers 15m².
What's Included in the SuperQuilt Trade – Bulk Pallet Deal?
If you require individual rolls of YBS SuperQuilt Trade CLICK HERE.
You'll recieve FREE next-day delivery for this pallet deal if placed before 2 pm. To anywhere in the UK Mainland! (Weekend orders delivered Tuesday)
If you require more information or you'd like to place an order over the phone Request a Call Me Back Here and one of our team members will call you within 1 hour.
FREE GIFT
Spend £500 + VAT and Choose a FREE GIFT at the checkout!
Free Gifts Include: Thermaseal Foil Joining Tape, Heavy Duty Staple Gun Kit, Multifoil Insulation Scissors or Thermaseal Double Sided Tape.
expand_circle_down Reviews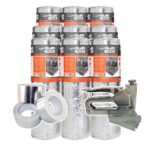 SuperQuilt Trade - Bulk Pallet Deal
Your review
* Review is required
Email
* Email is required
Add photos or video to your review
expand_circle_down Specification
| | |
| --- | --- |
| Core R-Value | 1.52m2 K/W |
| Roof R-Value (Core + 2 x 25mm Cavities) | 2.42m2 K/W |
| Wall R-Value (Core + 2 x 38mm Cavities) | 2.84m2 K/W |
| Floor R-Value (Core + 1 x 150mm Cavity) | 3.89m2 K/W |
| Emission coefficients of surfaces | 0.05 |
| Flammability | Class F |
| Water vapour resistance | 1569MNs/g |
| Layers | 19 |
| Thickness | 40mm approx |
| Weight | 700g/m2 |
| Width | 1.5m |
| Length | 10m |
| Area (m2 ) | 15m2 |
| Weight | 11Kg |
Key Features
Dual purpose, 2-in-1 insulating and vapour control membrane.
Unique kimble design that holds layers in place to avoid separation when cutting.
High thermal resistance of up to 2.84 m2 K/W, equivalent to 125mm mineral wool.
Thermally tested to industry standards.
Reduces energy usage, saving money.
Zero fibres removes the need for PPE.
Effective radiant barrier – warmer in the winter and cooler in the summer.
Unique overlapping method totally removes the risk of thermal bridging.
Fast and easy to install.
Made in Britain.
Downloads & Resources
picture_as_pdf Data Sheets