EcoTec Radiator Insulation Kit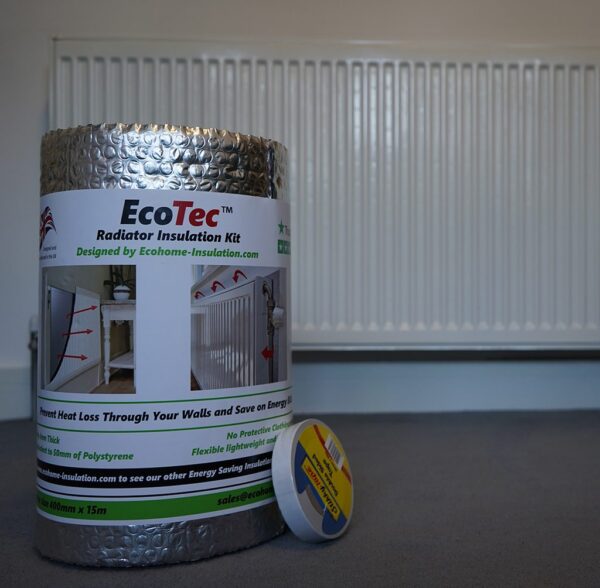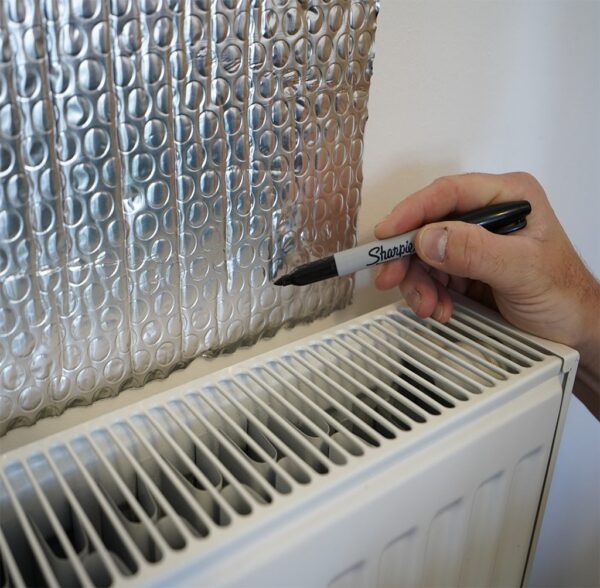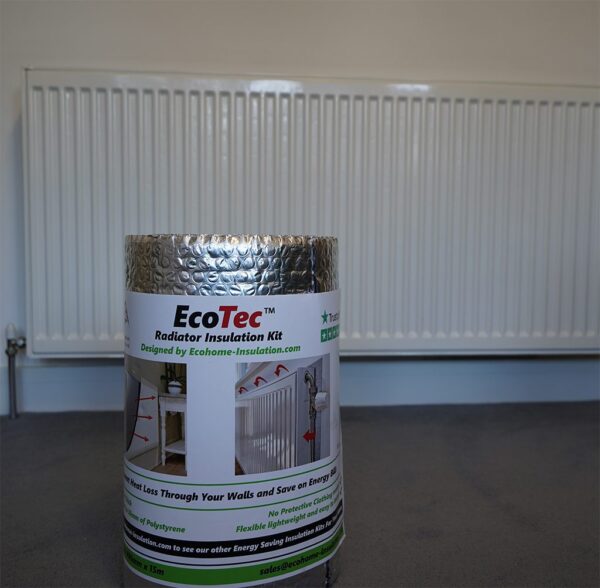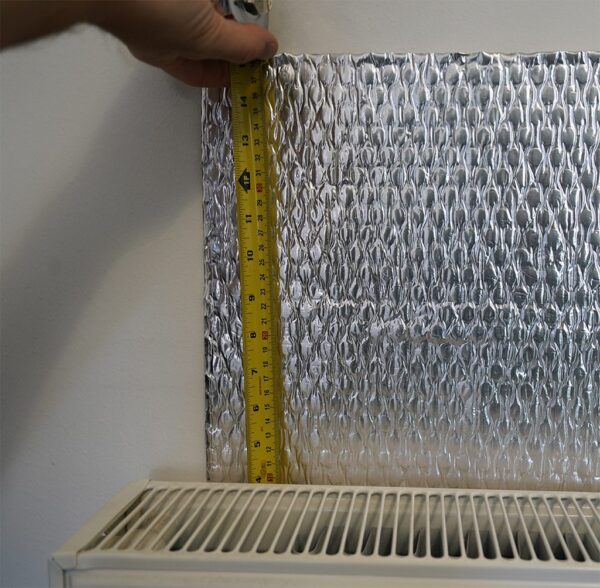 EcoTec Radiator Insulation Kit
expand_circle_down Description
Maximise Your Radiators Performance
The EcoTec Radiator Insulation Kit is a fast and cost effective way of maximising the performance of your radiators, within your home.
Did you know around 40% of energy from radiators can be lost via the walls? This is why it is absolutely vital to insulate behind them. Insulating your Radiators means that you can literally heat your home for Less Money!
The EcoTec Radiator Kit consists of a True Aluminium Foil either side of an air bubble membrane, this True Aluminium Foil reflects over 95% of radiant energy back into your home!
What does the Radiator Insulation Kit Include?
The EcoTec Radiator Insulation Kit comes on a 400mm x 15m multifoil insulation roll, which provides enough material for all radiators in a standard house.
This highly reflective bubble reflective multifoil insulation is  4mm thick., which means it is suitable for all standard radiators and convectors. You will also receive a roll of Double Sided Adhesive  Tape which will enable you to stick the radiator insulation securely to the wall, behind the radiator.
What are the Benefits of this Insulation Kit?
Simple to Install
Heat your Home for Less Cost
Retain Heat Energy
Prevents Heat Escaping
Coverage for all the Radiators in a standard home
Double Sided Tape Included
UK Manufactured
True Aluminium Foil Either Side
Only 4mm in Thickness
Highly Reflective
Reflects 95% of Radiant Energy
Low Cost & Instant Energy Saving
Maximizes Radiator Performance
Delivery
Orders placed before 2pm we will delivery your order on the next working day, to anywhere in the UK Mainland. If your order is placed over the weekend, your order will be delivered on Tuesday.
Are you looking for delivery to Northern Ireland? If so, enquire HERE!
If you have any technical queries or would prefer to order by phone, you can submit an enquiry or request a Call Me Back Here!
*Free Next Day Delivery applies only to orders over £100 + VAT being delivered to the UK Mainland (excluding highlands). Orders under this amount are subject to an £8 + VAT delivery charge.
FREE GIFT
Spend £500 + VAT and Choose a FREE GIFT at the checkout!
Free Gifts Include: Thermaseal Foil Joining Tape, Heavy Duty Staple Gun Kit, Multifoil Insulation Scissors or Thermaseal Double Sided Tape.
expand_circle_down How-To Videos
How To Insulate Behind Your Radiators To Save On Energy Bills
expand_circle_down Reviews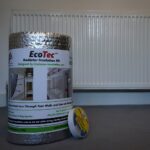 EcoTec Radiator Insulation Kit
Your review
* Review is required
Email
* Email is required
Add photos or video to your review
expand_circle_down Q&As
Do you attach the insulation to the wall or the Radiator?
You will always attach the insulation to the wall.
Will the double-sided tape damage the wall?
The tape shouldn't damage the paint, wallpaper, or plaster on the wall, but it could potentially leave some residue which could be removed with a product like GooGone. It is designed to last a long time so if you're wanting to renovate or move your radiators, we would recommend waiting to insulate them until you're done.
How thick is the insulation?
The insulation is only 4mm thick, so it'll fit behind all types of radiators.
How do I install the insulation so you can't see it?
If you're concerned about seeing the insulation, make sure when you're cutting and measuring that the insulation is a couple of inches shorter on each side than the size of the radiator.
Can I use a Radiator cover?
Yes, you can use a radiator cover however, they can block some of the heat entering your room from your radiators.
Is the product re-usable?
Our Radiator Kit can be removed if any renovation being undertaken. Once completed, the insulation can be re-installed using more Double-Sided Tape.
How many radiators will this cover?
Based on radiators of 1200mm wide x 680mm height, you would expect to insulate 7-8 radiators.
expand_circle_down Specification
| | |
| --- | --- |
| Width | 400mm |
| Length | 15m |
| Thickness | 4mm |
| Reflectivity | 95% |
Key Features
Quick and Easy to Install
Reduces Energy Loss via Walls
Covers all Radiators in a standard home
Double Sided Tape Included
UK Manufactured
True Aluminium Foil Either Side
Only 4mm in Thickness
Air Bubble Membrane
Reflects 95% of Radiant Energy
Low Cost & Instant Energy Saving
Maximizes Radiator Performance
Downloads & Resources
picture_as_pdf Data Sheets