EcoQuilt Expert Trade Pallet Deal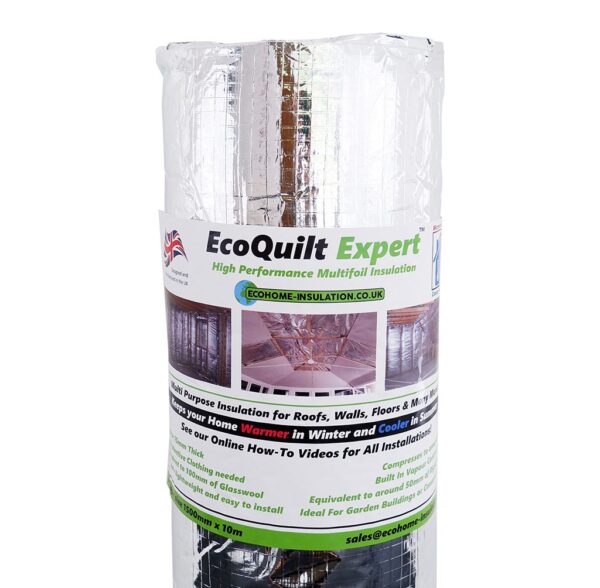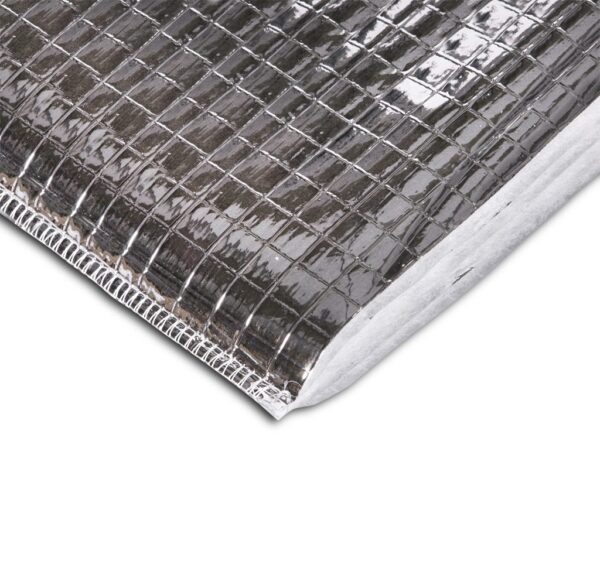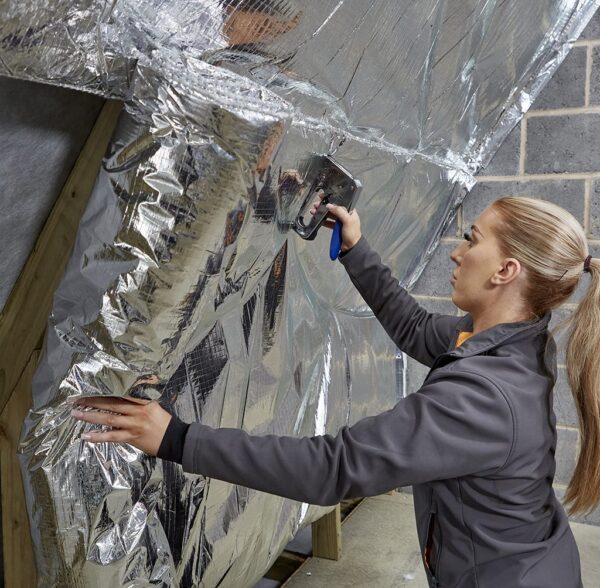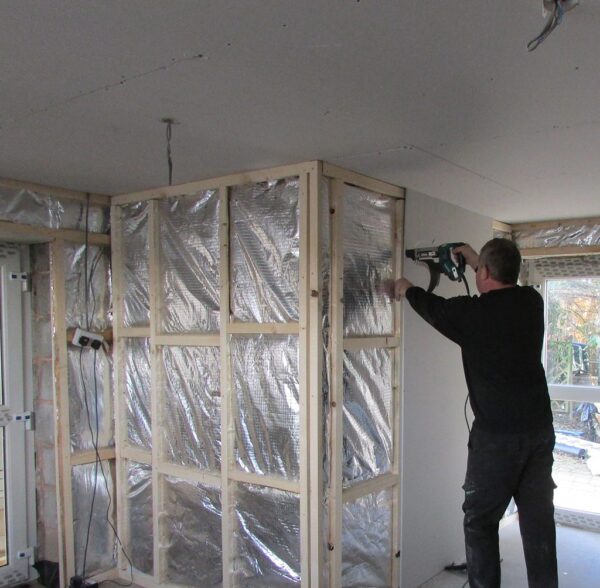 EcoQuilt Expert Trade Pallet Deal
expand_circle_down Description
EcoQuilt Expert Trade Discount Price
The most cost effective way to purchase EcoQuilt Expert.
The Trade Pallet Deal Includes; FREE Next Working Day Delivery, FREE Heavy Duty Staple Gun Kit, including 5,000 x 14mm Staples.
What is EcoQuilt Expert?
EcoQuilt Expert is a highly reflective 6 Layer Multifoil Insulation Blanket. It is designed to insulate Roofs, Walls, Floors, Conservatories, Garden Buildings, Caravans and Many More applications.
EcoQuilt Expert will compress down to 6mm when installed. It is 15mm in its open state, but is equivalent to around 100mm of Glasswool so saves you significant space. EcoQuilt when compared to PIR is to  is equivalent to 50mm of Rigid Board Insulation materials, such as Kingspan/Celotex.
When you look at both its cost and its thermal performance, we can see why EcoQuilt is our most popular insulation.
When installing, to reap the vapour control layer benefits, as well as the thermal insulation benefits – overlapped each layer by 50mm then fully tape and seal. All Overlaps, Cuttings and the perimeter is recommended to be Taped and Sealed using ThermaSeal True Aluminium Foil Tape.
You can choose between two roll sizes: EcoQuilt Expert is supplied in either 1.2 x 10m Rolls or 1.5m x 10m rolls.
Below is what you will receive in each a EcoQuilt Expert Trade Pallet Deal;
20 x EcoQuilt Expert 1.5m x 10m (300m²)
8 x Thermaseal Foil Joining Tape
Free Heavy Duty Staple Gun & 5,000 Staples
Free Delivery – Any Working Day to UK Mainland
We also now offer EcoQuilt in 12m² Rolls! See below what's included in 12m² Trade Pallet;
20 x EcoQuilt Expert 1.2m x 10m (240m²)
8 x Thermaseal Foil Joining Tape
Free Heavy Duty Staple Gun & 5,000 Staples
Free Delivery – Any Working Day to UK Mainland
Prefer to order individual rolls? Order EcoQuilt Expert Here!
For our Data Sheet for EcoQuilt Expert Click Here.
Require a bespoke quotation or mixed pallet or simply require advice? Use our Call me Back option, and one of our dedicate team will call you within the hour!
Are you looking for delivery to Northern Ireland? If so, enquire HERE!
FREE GIFT
Spend £500 + VAT and Choose a FREE GIFT at the checkout!
Free Gifts Include: Thermaseal Foil Joining Tape, Heavy Duty Staple Gun Kit, Multifoil Insulation Scissors or Thermaseal Double Sided Tape.
EcoQuilt Expert Multifoil Insulation is our Space Saving, high Performance Insulation solution designed for maximum performance in Lofts, Walls, Timber Floors, Conservatories and Garden Buildings.
See how easy it is to install EcoQuilt Expert – watch our How-To Video below!

Laying fibre Insulation on the loft floor means you lose valuable storage space as well as it containing dangerous floating fibres and being itchy – now you have an alternative! EcoQuilt Expert is quick and easy to fit, a complete multi-foil insulation blanket that can be fitted directly under your roof rafters to retain more heat in your home. It's just like putting a thermal blanket over your home!
Your loft floor is kept clean, free for storage and any pipes or tanks in your loft area are protected from frost too.
If you cannot install EcoQuilt on the Rafters please see our loft floor insulation kit to see how you can install EcoQuilt multifoil insulation on your loft floor without losing valuable storage space!
Fitting Multifoil Insulation is quick, clean, easy and requires no special clothing or equipment unlike traditional Rockwool material. All you need is ThermaSeal Foil Tape and a Staple Gun which can be purchased alongside our high performance multifoil at the lowest trade rates.
When you spend over £500 + Vat we even supply you with a Free Heavy Duty Staple Gun and 5,000 14mm Staples.
EcoQuilt Expert is recommended for Insulating Lofts by outperforming traditional fibre. EcoQuilt Expert is the space saving, highly reflective Insulation solution to keep homes warmer in winter and cooler in summer. The EcoQuilt blanket has a combination of 6 layers of highly reflective foil, a vapour control layer and thermal wadding to provide a fully waterproof, highly effective insulation blanket. Simply staple EcoQuilt straight onto roof rafters, floor joists, or wall battens as shown in our How-To-Videos – then enjoy a warmer home in winter and a cooler home in summer!

If your project is going through Building Control where you need to achieve a specific U-Value see our Multifoil SuperQuilt. YBS SuperQuilt is the highest performing multifoil on the market and is fully LABC and BBA certified for use with Building Control.
expand_circle_down How-To Videos
How To Insulate Your Roof, Walls & Floor With EcoQuilt Expert
expand_circle_down How-To Guides
How To Insulate Your Walls With EcoQuilt Expert
Install Timber Battens

Start by installing 25mm battens directly onto the solid wall, horizontally or vertically at 400 to 600mm intervals.

Cut to desired length

Roll out EcoQuilt to the desired length, before cutting with a Cutting Knife or Multifoil Scissors, both available in our MultiFoil Fitting Kit. Check out this tutorial on how to professionally cut your insulation.

Stapling your EcoQuilt

Begin at one end of the wall, hold up EcoQuilt to the right position and staple into place at 300mm intervals. We recommend using a Heavy-Duty Staple gun and 14mm staples. *Make sure EcoQuilt is pulled taut to allow product to expand & reflect into cavities. Repeat stapling across the wall and around perimeter. When installing the next run of EcoQuilt, we recommend overlapping by a minimum of 50mm.

Using Thermaseal Foil Joining Tape to seal

Once EcoQuilt is applied, begin to tape and seal all overlaps using ThermaSeal Foil Joining Tape around the perimeter and the overlaps to prevent condensation and to create an airtight barrier. We recommend 1 roll of Thermaseal Foil Joining Tape for 30m2 of EcoQuilt.

Install Counter Battens

Now it's time to install your 25mm counter batten. Again, horizontally or vertically at 400 to 600mm intervals. We recommend these counter battens to be fixed to the initial battens. We also recommend creating a frame around any windows and around the perimeter.

Installing Plasterboard

Finally, once battens are fixed, appropriate plasterboard can be installed. Simply screw into your battens. This application would not require the use of a Foiled-back plasterboard as EcoQuilt Expert works as a high performing Vapour Control Layer when fully sealed with Thermaseal Foil Joining Tape. Optional insulated platerboards could be used for extra thermal benefits, if desired.
How To Install EcoQuilt Expert on Roofs and Walls
Fitting Information

Watch our How-To Video to see how easy it is to install EcoQuilt Expert in various applications.

Measure the Area and Cut the EcoQuilt to Size

Measure the area of either the wall / roof section depending on where you would like to insulate first and cut. You can cut using either our Cutting Knife or Multifoil Scissors. Both of which come part of the Mulfifoil Fitting Kit that we supply.

Staple EcoQuilt to the Timber

Proceed by stapling the Multifoil Insulation directly to the timber (whether that be the Rafters, Studs or Battens). This is the best way to enable the EcoQuilt to perform, as it provides a air cavity behind the insulation. When stapling, leave 300mm intervals.

Proceed until Full Coverage

Install the Second Strip of EcoQuilt. IMPORTANT: overlap the EcoQuilt by 50mm, on both the horizontal and vertical joints.

Tape - Using ThermaSeal Foil Joining Tape

Use the ThermaSeal Foil Joining Tape - to tape and seal all the joints and edges. You will need to ensure that the EcoQuilt is fully taped and sealed around the perimeter, as this creates the vapour control barrier.

Counter Batten and Plasterboard

Once the EcoQuilt Layer has been installed - install a secondary set of battens over the top of the insulation. We advise using between 400mm and 600mm centre battens. You can then proceed with your internal finish, over the battens.
How To Insulate a Floor using EcoQuilt Expert or YBS SuperQuilt
Installing over existing joists

Start by removing the existing floorboards to expose all joists. We then recommend running the multifoil perpendicular to joists and cutting at each end, allowing enough material to recess the quilt into the joists.

Recessing Multifoil

To save on headheight, you can now recess the multifoil into the joists. We recommend using a 50mm batten as a guide and stapling along the top and sides of each batten. If preferred you can use our Multifoil Saddle Clips.

Taping and Sealing with ThermaSeal Foil Tape

Next tape and seal around the perimeter with ThermaSeal Foil Joining Tape. This will prevent drafts from rising through the flooring. We recommend overlapping each layer of Multifoil by 50mm and leaving the overlaps untaped, to allow the timbers to breathe.

Laying Floorboards

You can then proceed to install the floorboards back over the joists and insulation. This will then have created an air cavity on either side of the insulation.
How To Insulate Your Timber Building Using an EcoPro Shed Insulation Kit
Staple the EcoQuilt Expert under the roof rafters

Start by stapling EcoQuilt Expert to the roof rafters using the Heavy Duty Staple Gun Kit. Ensure that the material is pulled taut across onto the next rafter. Then, Staple down the second rafter at a maximum of 2 inches apart.

Secure & Cut off any excess

Once you have secured the first section, cut any excess material off with the sharp blade provided in the EcoPro Shed Insulation Kit.

Repeat the process

Install the next section in the exact same way, stapling to the rafters and cutting off any excess. Remember to ensure a 50mm overlap of material.

Seal with ThermaSeal Foil Joining Tape

Once you've stapled your EcoQuilt, it's now time to seal all of the joints and edges with ThermaSeal Foil Joining Tape. This is what creates the Vapour Control barrier.

Fixing your roof counter battens

Now you can fix the 19mm battens to secure your EcoQuilt, using screws with a minimum length of 35mm. Fix the remaining battens in the exact same way. Now, you are ready to install the surface finish of your choice.

It's time to insulate the walls

For buildings with existing studwork, hold your insulation into place and simply recess the EcoQuilt halfway back by stapling it onto the side of the stud. Ensure a 19mm air gap either side of the insulation. Then continue by pulling the material taut before securing onto the next timber stud. Ensure EcoQuilt is stapled at minimum intervals of 300mm, using the 14mm staples provided.

Attaching battens (if needed)

If your space does not have timber uprights, you can fit 19mm battens onto the walls using screws.

Seal the with ThermaSeal Foil Joining Tape

Now that all of your EcoQuilt is stapled into position, it's time to seal all overlapping joints and around the perimeter with ThermaSeal Foil Joining Tape to ensure an airtight seal.

Fixing your wall Counter battens

As you did with the roof, fix the 19mm battens to secure your EcoQuilt using screws with a minimum length of 35mm. Fix the battens, in the same place as the existing wall studs. Repeat the exact same process. Now you're ready to install the final surface finish of your choice and decorate!

Enjoy your fully insulated Timber building!
How to Insulate Your Loft Floor Without Using Fibreglass
Remove Existing Minerlal Wool Insulation

Start by removing the existing loft insulation. Ensure a mask and protective clothing is used to avoid irritation to the skin.

Installing first run of EcoQuilt

Measure out the length of material required, then roll our EcoQuilt Expert over the joists. EcoQuilt can be simply be cut using scissors or a cutting knife - Both available in our Multifoil Fitting Kit. Ensure when the second run of EcoQuilt is installed the layers are overlapped by 50mm.

Recess and Staple EcoQuilt

Staple EcoQuilt on both the top of the joists, and also on the sides when recessing. We recommend the use of a 25mm batten to use as a template, this will ensure accurate and correct air gaps throughout the floor area. The benefit of recessing is to create a cavity without the use of a batten. When a cavity is formed, optimum performance is gained from the insulation as this will reflect properly.

Taping & Sealing

Ensure all overlaps are fully taped and sealed using Thermaseal Foil Tape (Provided in the kit) Ensure the brick walls are dust and debris free. Fully tape and seal around the perimeter with Thermaseal Tape. This will ensure EcoQuilt works as an Insulating Vapour Control Layer. It will avoid any air leakages, and keep the heat on the internal.

Install Second Layer

You then have the option to install a 2nd layer of EcoQuilt taut over the joists, Using an additional layer will maximise the heat retention. For further installation benefits, use a 25mm batten over the joists.

Installing Loft Boards

Once 1 Layer of EcoQuilt is installed and taped using ThermaSeal Foil Tape, you are now ready for the installation of loft boards. This can be screwed directly into the joists through the insulation.
expand_circle_down Reviews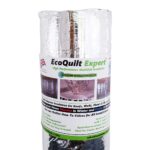 EcoQuilt Expert Trade Pallet Deal
Your review
* Review is required
Email
* Email is required
Add photos or video to your review
expand_circle_down Q&As
Do I need to use battens with this product?
To gain the best thermal benefits, it is essential to have air-gaps both sides of the insulation. This allows EcoQuilt to expand and reflect on both sides. These cavities can be created by battens, or existing timbers e.g. Rafters or Studwork.
Can I use this product to insulate my loft?
Yes, EcoQuilt Expert is suitable for insulating either the sloping rafters, or loft floor level.
Do I need to use a foiled-back plasterboard?
When EcoQuilt Expert is the most internal insulation layer, it will work as a high-performance Vapour Control Layer, reducing condensation. If this method is followed, there is no requirement for a Foiled-backed plasterboard.
How much heat would you save?
This would vary on the application; however a good benchmark is 1 layer of EcoQuilt Expert would equate to approx 100mm Mineral Wool.
Is EcoQuilt waterproof?
When EcoQuilt is taped and sealed, it does not allow any moisture to pass through.
Can you recycle EcoQuilt?
Whilst EcoQuilt is not available for recycling, it is made of approx 75% recycled materials. EcoQuilt also will not shrink or degrade over time, and will last the lifetime of the application!
What's the best method to cut EcoQuilt?
We recommend cutting EcoQuilt either with Multifoil Scissors or a cutting knife. Both are found in our Multifoil Insulation Fitting Kit.
Is EcoQuilt suitable for Conservatories?
Yes, EcoQuilt is a very multi-purpose product and is extremely popular for Conservatories. It is also used in lofts, walls, floors, sheds, garages, caravans, sheds and many more!
Are there discounts available on EcoQuilt?
When 20 roll quantities are ordered, there is a saving on EcoQuilt Expert. This can be found in our Trade Pallet Deals.
expand_circle_down Specification
| | |
| --- | --- |
| Length | 10m |
| Width | 1.5m / 1.2m |
| Thickness | 15mm (5mm Compressed) |
| Roll Coverage | 15m² . 12m² |
| Layers | 6 |
| Weight | 5.5KG |
| Core R-value | 0.93m²K/W |
| Roof R-value | 1.83m²K/W |
| Wall R-value | 2.27m²K/W |
| Floor R-value | up to 5.56m²K/W |
| Foil Emissivity | 0.05 |
| Water Vapour Resistance | 600MNs/g |
Key Features
15mm, 6 Layer Multifoil
Most efficient way to buy EcoQuilt
Cost less than £4.77 per m²
Flexible, Thin and simple to install
Compresses down to approx 5mm
Suitable for all Applications
High Performing Vapour Control Layer
R-Value of up to 2.27 m² K/W
UK Manufactured – Ecohome Insulation
Downloads & Resources
picture_as_pdf Data Sheets