Loft Floor Insulation Kit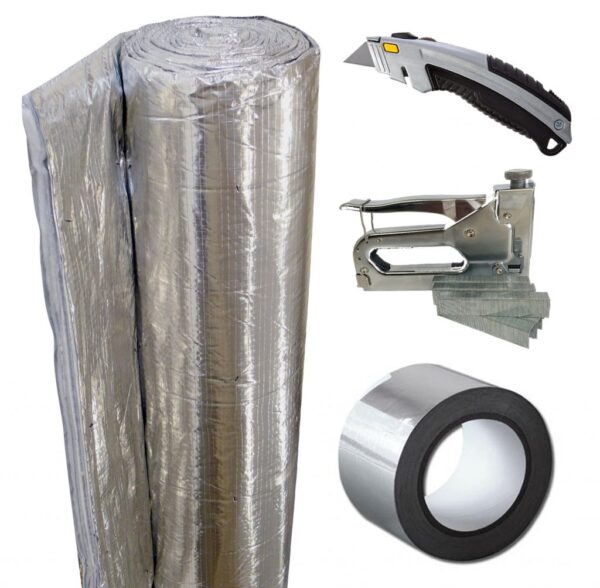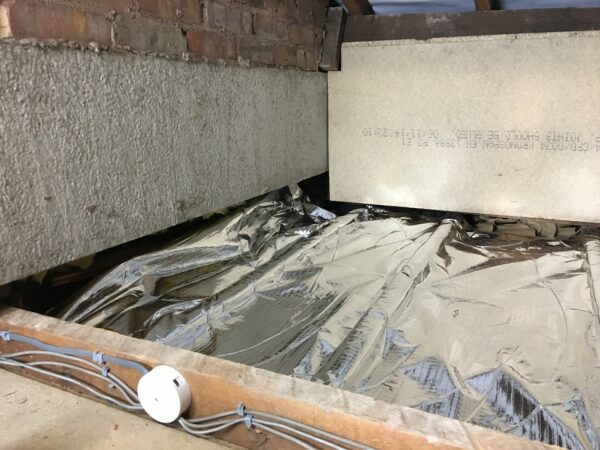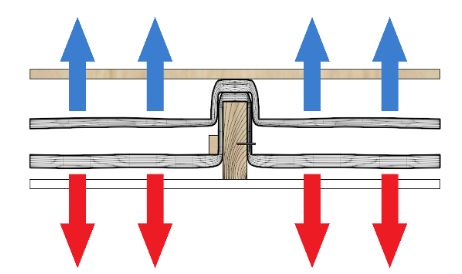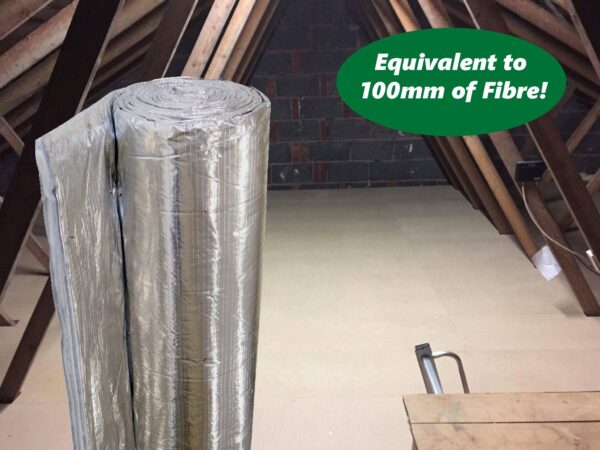 Loft Floor Insulation Kit
expand_circle_down Description
Upgrade Your Loft Floor Insulation
Ecohome Insulation's Loft Floor Insulation Kit is an ideal solution for insulating your loft floor without the use of any nasty, itchy fibre glass. In addition, without raising the floor height!
What insulation is in the kit?
At 5mm thick when compressed EcoQuilt Expert is equivalent to around 100mm of Fibre Glass. You can also use a double layer to reflect even more heat! Due to it's reflective foils, it repels away unwanted heat in summer, whilst retaining heat in the cooler months.
Unlike Fibreglass, EcoQuilt Expert will not degrade over time and doesn't give off any harmful fibres and no protective clothing is needed to install.
What's included in the kit?
Each Kit Includes;
EcoQuilt Expert 1.5m x 10m (15m²)
ThermaSeal Foil Joining Tape 75mm x 50m
Heavy Duty Staple Gun Inc. 5,000 14mm Staples
Multifoil Cutting knife
Free Next Working Day Delivery (When ordered before 2pm)
Watch our How-To Video to see how easy it is to install our Loft Insulation Kit.
Any Questions or would like to order by phone? Request a Call Me Back Here!
FREE GIFT
Spend £500 + VAT and Choose a FREE GIFT at the checkout!
Free Gifts Include: Thermaseal Foil Joining Tape, Heavy Duty Staple Gun Kit, Multifoil Insulation Scissors or Thermaseal Double Sided Tape.
expand_circle_down How-To Videos
How To Insulate Your Loft Floor Without Using Fibreglass
expand_circle_down How-To Guides
How to Insulate Your Loft Floor Without Using Fibreglass
Remove Existing Minerlal Wool Insulation

Start by removing the existing loft insulation. Ensure a mask and protective clothing is used to avoid irritation to the skin.

Installing first run of EcoQuilt

Measure out the length of material required, then roll our EcoQuilt Expert over the joists. EcoQuilt can be simply be cut using scissors or a cutting knife - Both available in our Multifoil Fitting Kit. Ensure when the second run of EcoQuilt is installed the layers are overlapped by 50mm.

Recess and Staple EcoQuilt

Staple EcoQuilt on both the top of the joists, and also on the sides when recessing. We recommend the use of a 25mm batten to use as a template, this will ensure accurate and correct air gaps throughout the floor area. The benefit of recessing is to create a cavity without the use of a batten. When a cavity is formed, optimum performance is gained from the insulation as this will reflect properly.

Taping & Sealing

Ensure all overlaps are fully taped and sealed using Thermaseal Foil Tape (Provided in the kit) Ensure the brick walls are dust and debris free. Fully tape and seal around the perimeter with Thermaseal Tape. This will ensure EcoQuilt works as an Insulating Vapour Control Layer. It will avoid any air leakages, and keep the heat on the internal.

Install Second Layer

You then have the option to install a 2nd layer of EcoQuilt taut over the joists, Using an additional layer will maximise the heat retention. For further installation benefits, use a 25mm batten over the joists.

Installing Loft Boards

Once 1 Layer of EcoQuilt is installed and taped using ThermaSeal Foil Tape, you are now ready for the installation of loft boards. This can be screwed directly into the joists through the insulation.
expand_circle_down Reviews
expand_circle_down Q&As
Do I need any specific PPE to complete this job?
No, you don't need any protective clothing, masks, or safety goggles as there are no harmful fibres in the insulation. However, if you're removing any fibreglass before laying the multifoil insulation we do recommend using a mask and gloves because it can irritate your skin and lungs.
Can I double up on the insulation?
Yes, you can do 2 layers of insulation as long as you recess the first layer into the joists and staple it in place then layer the second layer over the top of the joists.
Do I need to batten over the top of the insulation?
Yes, you should always batten over the top, so the insulation has room to expand. It will also give you a solid structure to board over the insulation.
Do I need to tape and seal around the edges?
Yes, this is what helps it give the best thermal performance. It'll stop any cold draughts from entering your home and prevent any warm air from escaping.
What's the best way to cut the insulation?
The insulation is really easy to cut with a pair of scissors or a knife. If you look at the top of the website, there's a section that says, 'Things You'll Need' Here you can find our Multifoil insulation scissors.
expand_circle_down Specification
| | |
| --- | --- |
| Length | 10m |
| Width | 1.5m |
| Thickness | 15mm (5mm Compressed) |
| Roll Coverage | 15m² |
| Layers | 6 |
| Weight | 5.5KG |
| Core R-value | 0.93m²K/W |
| Roof R-value | 1.83m²K/W |
| Wall R-value | 2.27m²K/W |
| Floor R-value | up to 5.56m²K/W |
| Foil Emissivity | 0.05 |
| Water Vapour Resistance | 600MNs/g |
Key Features
Lightweight, thin and flexible
Can be used in joists as shallow as 50mm
No harmful floating materials compared to traditional loft insulation
Can be installed without raising your floor height
Reflects 95% radiant energy back into your home
Low Emissivity Foils
UK Manufactured
Downloads & Resources
picture_as_pdf Data Sheets