EcoTec Shed Insulation Kit
EcoTec Shed Insulation Kit
Insulating Garden Rooms, Log Cabins and Timber Buildings such as Sheds and Farm Buildings is Easy and Effective with the Complete EcoTec Shed Insulation Kit.
Struggling to work out how much insulation you require for your Shed? Download our 'How Much Insulation Do I Need' PDF Here!
Our EcoTec Shed Insulation reflects more heat back in to any Timber Building keeping you warmer in winter. And just as important our insulation reflects excessive heat on hot summer days – a problem overlooked by most Garden Building Manufacturers.
Watch our How-To Video to see how easy it is to insulate a Garden shed for use all year round!
EcoTec Shed Insulation works best by creating a 25mm Airgap between the Insulation and the timber usually with 25mm Battens. This helps the Product to reflect and also helps stop any Cold Bridging. When boarding internally a second 25mm airgap is recommended to create airspace either side of the Insulation.
Our Reflective Foil Insulation Kit includes everything you require to insulate the Roof, Walls & Floor of a Timber building. The EcoTec Shed Insulation Kit is ideal for 100's of other applications too such as Farm Buildings, Garages, Out Buildings, Camper/Static Vans and many more.
Whats included in the EcoTec Shed Insulation Kit?
EcoTec Shed Insulation comes on either a 1.5m x 25m roll which covers 37.5 square metres OR a 1.05m x 50m rolls covering 52.5 square metres – Covers most Sheds! You will also receive the following;
True Aluminium Thermaseal Foil Joining Tape 75mm x 50m
1 x Heavy Duty Staple Gun & 5,000 14mm Staples
1 x Cutting Knife & Extra Blades
Free Next Working Day Delivery (Ordered before 2pm to the UK Mainland)
To see how much insulation you require for your timber or metal building you can read our informative data sheet here!
If you are using your Garden room as an Office or Living Space for all year round use, we recommend using our EcoPro Shed Insulation Kit.
You can Order online at the lowest Trade prices and receive FREE Next working day delivery on orders placed before 2pm. Alternatively you can request a "Call Me Back" and we phone you within 1- hour for your order, 7 days a week!
How To Install The EcoTec Shed Insulation Kit
EcoAirtec Double Insulation - Included in EcoTec Shed Kit
How Much Do I Need?
Find out which kit you need for your shed!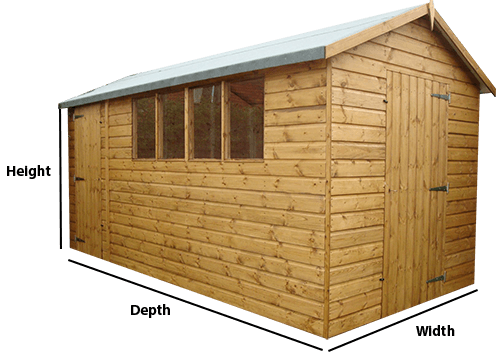 Key Features
Highly Reflective True Aluminium Foil
1050mm x 50m (Covers 52.5m²)
1500mm x 25m (Covers 37.5m²)
Thin, Flexible and Easy to Install
High Performing Vapour Control Layer
Insulating Air Bubble Membrane
Suitable for All types of Garden Buildings
Reflects Excess Heat Away during Summer
Reflects Cold away during the Winter
UK Manufactured