Draught-proofing – THE most effective energy-saving solution!
Draught-proofing – THE most effective energy-saving solution!
Good ventilation is required in any type of home, traditional or new build, to reduce condensation and prevent dampness. BUT draughts, on the other hand, if not controlled they can allow in too much cold air. Negating the efforts you're making to keep your house warm. This is why draught-proofing is one of the most effective energy-saving solutions. You can use to keep your home warm and your energy bills down. Homes without draughts are comfortable at lower temperatures, allowing you to lower the thermostat and reduce your energy usage even further.
To draught-proof your home, you should seal up any openings that permit warm air to escape and cold air to enter. Draught-proofing shouldn't be difficult if you enjoy doing easy DIY projects. Although it is very important to remember that your home must have air movement to keep it healthy, dry, and fresh. Be cautious not to obstruct or seal any deliberate ventilation, for instance, extractor fans, air bricks, or underfloor grilles that keep timber beams and flooring dry.
Draughts occur in areas of your home's construction where there are unwelcome gaps and exposed apertures, or via any unintentional opening that leads outside. The most typical places to discover draughts are noted below, along with advice on how to eliminate them…
Windows:
Purchase draught-proofing strips to wrap around the window frame and seal the space between the window and the frame for windows that open. Foam strips don't work well for sliding sash windows. It is best to install brush strips or seek professional advice. Use silicone sealant on non-opening windows. Consider installing energy-efficient windows if you're thinking about upgrading your windows.
Doors:
External doors can be inexpensively draught-proofed to prevent heat from escaping. Firstly, get a cover that drops a metal disc over the keyhole, then use a letterbox flap or brush (don't forget to measure your letterbox first), and finally use a brush or a draught excluder with a hinged flap to close the bottom gap. You can also fill in any gaps around the borders using foam, a brush, or window-cleaning wiper strips. If an internal door leads to a place you don't typically heat, such as your spare room or kitchen, draught-proofing is a great idea there too.
Skirting boards and floorboards:
For skirting boards filler can be squirted into cracks to fill them. You should pick a filler that can bear movement because skirting boards frequently contract, expand, or shift slightly with regular use, so choose a filler, foam, or caulk that is silicone-based. However for the floorboards themselves, this would not be an effective solution, this is why we recommend using our EcoTec Floor-Foam Insulation Kit which blocks any draughts from coming up through the floors and keeping the warm air inside the room. This can be used under most flooring including, carpet, underlay, wood, laminate, and vinyl.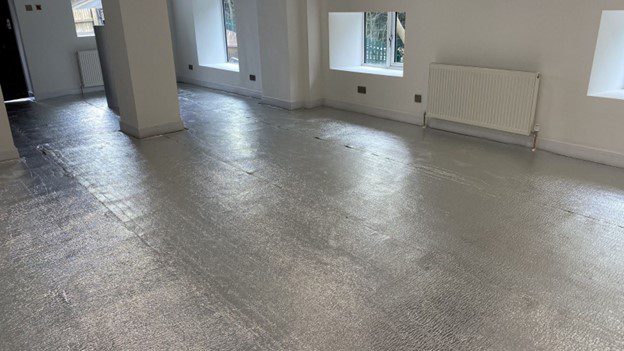 Loft hatch:
The area surrounding your loft hatch should be sealed up since hot air rises and condenses in the chilly area of your loft or attic. Our Ecohome Insulation's Loft Floor Insulation Kit is an ideal solution. For insulating your loft floor without the use of any nasty, itchy fiberglass. Also without raising the floor height and keeping your loft storage boards in place. At 6mm thick when compressed EcoQuilt Expert is equivalent to around 100mm of Fibre Glass. It also helps retain heat by reflecting heat into your home.
Gaps in the walls:
Cracks can be repaired with hard-setting fillers or cement around electrical fittings on walls, ceilings, and joists running from ceiling to wall. You might need to determine whether there is an underlying issue if there is a significant crack in your wall. Think about speaking with a surveyor or builder to determine what initially caused the crack.
Draught-proof your WHOLE home:
While you are draught-proofing don't overlook any areas of your home such as the garage or conservatory. We have handy, easy teasy-to-installation kits available for both.
Get your EcoHome-Insulation draught solution delivered directly door:
We also offer FREE next working day delivery to the UK Mainland on orders placed before 2 pm.
You will see from our excellent Trust Pilot reviews, that all our insulation products receive extremely positive feedback <<take a look>>.
If you require any further assistance at all, you can Send us a Message or Request a Callback
Order online or via phone at 0114 323 0029
Take a look at our Instagram @ecohome_insulation
trending_flatBack to News