Shed Insulation – Why you need it and what options are available…
Shed Insulation – Why you need it and what options are available…
Without a doubt, insulated sheds and garden buildings can be used for a lot more things than a typical, uninsulated one. If you're thinking about adding shed insulation, you presumably already have a goal in mind, and that's why you're willing to spend the time and money to do it. Many factors could lead you to wish to insulate your shed:
Housing for small animals or pets, such as rabbits
Storage for items that need special temperature care.
Use as a home office
Use as a craft or art studio.
Use as a games room or fitness studio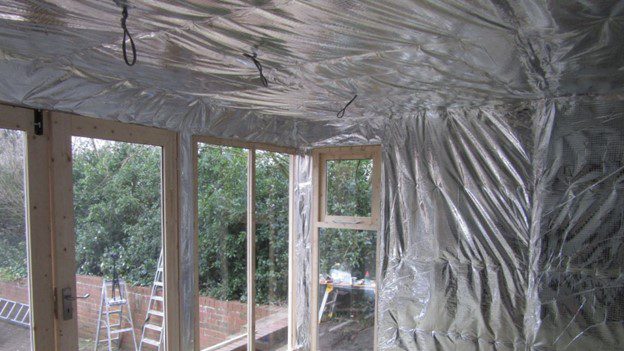 To ensure that the temperature and humidity within the shed are independent of the weather outside, insulation is key. The most obvious benefit, especially in the UK where we can have bitterly cold and wet winters or sweltering hot summers, is to lessen the impact of the harsh weather conditions on what is within the shed. Electronics, paints, and many other goods are all susceptible to harm from extreme temperatures and humidity. By properly insulating a shed, you can maintain consistent temperatures and humidity levels and create a climate-controlled space where you can extend the life of your items even when they are stored for an extended period.
Alternatively, if you are using your shed for more than just storage, you will want it to be comfortable at all times and in all weather conditions without making excessive use of a heater. Thermal insulation is crucial because extremes in temperature damage printers, computers, and paper. When you are on the phone with a client and don't want the nosy neighbours to overhear your chat, you need some acoustic insulation, which thermal insulation also offers.
Ecohome Insulation Shed Insulation Kits
Whatever your requirements we have a solution at Ecohome Insulation that enables you to convert your shed into a functional area. We provide two kits for DIY shed insulation. Both kits are produced in the UK utilising highly reflective foil insulation, whose reflectivity keeps the wood construction at a more comfortable temperature throughout the year! Regardless of the package you choose, you will receive everything you need to complete the installation on your own.
A perfect solution for those who are looking to use their building for storage, greenhouses, etc.
Specifics:
The Kit Includes 4mm thick Highly Reflective Insulation, made from True Aluminium Foil
Insulation Rolls can be purchased in either: 1.5 x 25m rolls (Covering 37.5m2) OR 1.05 x 50m rolls (Covering 52.5m2
Insulation is thin and therefore flexible and easy to install
High-Performing Vapour Control Layer
Insulating Air Bubble Membrane
Or we have the…
Is THE perfect solution for turning sheds/summerhouses into usable living spaces (Offices, Gyms, and Workshops) all year round! This will be much warmer in the winter and cooler in the summer.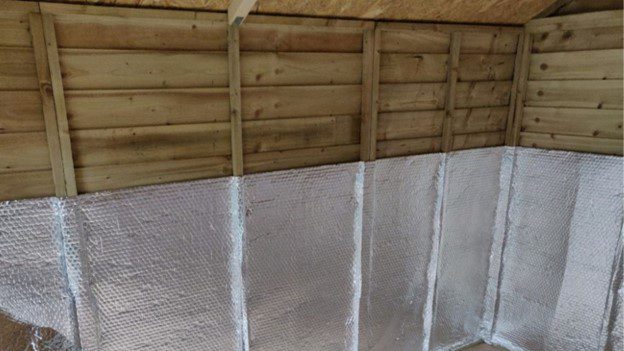 Specifics:
Rolls supplied are 1.5 x 10m EcoPro Insulation (15m²)
Highly Reflective Multifoil Insulation, consisting of 6 layers.
The Insulation supplied is 15mm in thickness, compressing to just 6mm
High Performing Vapour Control Layer (when fully sealed with ThermaSeal Foil Tape)
Equivalent to 50mm of Rigid Board such as Kingspan and also to 100mm of Rockwool
Suitable for all types of Garden Buildings
Not sure how many insulation rolls you need?
We've put together a guide that suggests how much insulation you'll require: To determine how much you need <<Insulation Measurement Guide>>
Given the amount of money you invested in it, hopefully, your shed will last for many years and provide good service. The addition of insulation is a wise investment because it increases the range of applications for your shed and shields it from the destructive effects of high and low temperatures. So now that you know why it's a good idea to insulate your shed and how simple it is to do so, buy yours right away at the lowest trade rates!
Buy your EcoPro or EcoTec Kit and receive Free Next Working Day Delivery to any location in the UK Mainland when you pay before 2 pm!
You will see from our excellent Trust Pilot reviews, that all our insulation products receive extremely positive feedback <<take a look>>.
If you require any further assistance at all, you can contact us – Send us a Message or Requesting a Callback or order online or via phone at 0114 323 0029
Take a look at our Instagram @ecohome_insulation
In the Market for a New Garden Building?
We are now offering fully insulated EcoStudios Garden Rooms delivered anywhere in the UK. UK Manufactured and professionally installed by the Guilf of Master Craftsmen!
For a bespoke no obligation quotation and for more information, please visit the link below
trending_flatBack to News