SuperQuilt – One Great Brand, Three Insulation Options…
SuperQuilt Multifoil Insulation – One Great Brand, Three Insulation Options…
YBS SuperQuilt is a well-known multifoil insulation in the UK. This multilayer insulation is versatile and simple to install and provides excellent thermal benefits. Multi-foil insulation has the advantage of being appropriate for a variety of applications, including the wall, floor, and roof insulation. In addition, because of its shallow depth, it allows you to conserve important installation space. The product's distinctive composition successfully handles all types of energy transfer.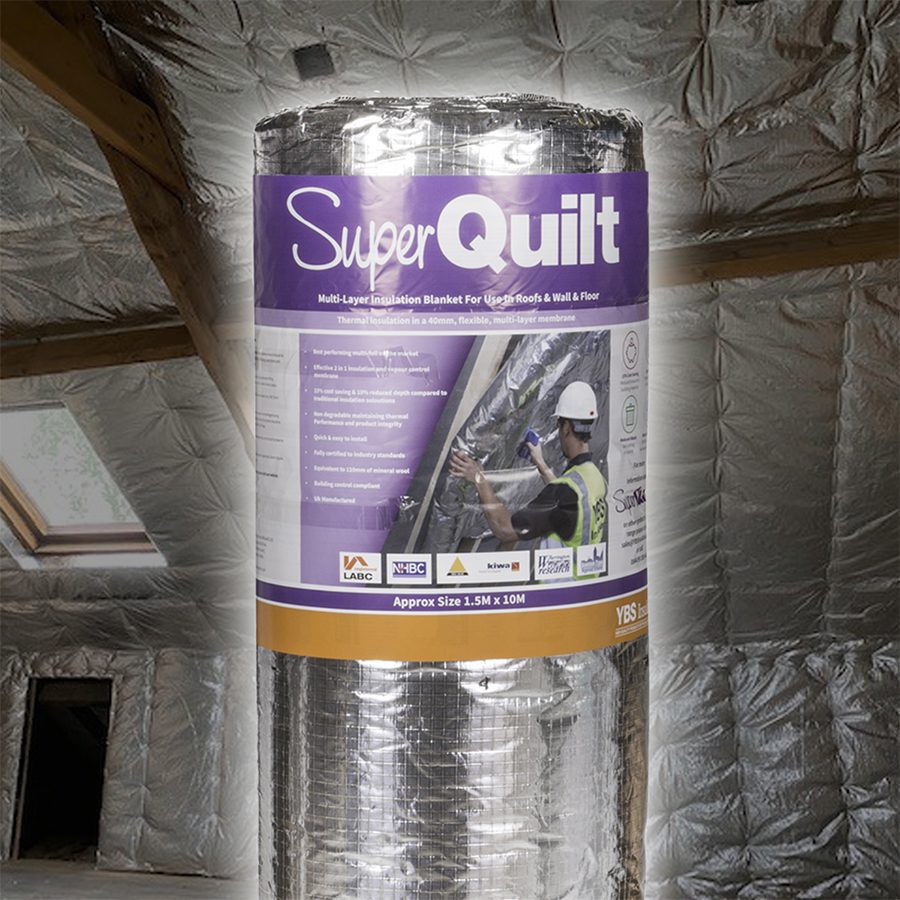 New to 2023, new products have been added to the SuperQuilt Brand!
Be conscious when making your decision on which SuperQuilt product you desire, especially if going through building control
Currently In Stock
SuperQuilt is 40mm and consists of 19 layers of Aluminium Foil and wadding. It is THE only certified Multifoil on the market with highly reflective True aluminium outer layers, resulting in SuperQuilt reflecting away 98% of radiant energy – Keeping your home warmer for longer!
When purchasing direct from ourselves and taping and sealing using ThermaSeal Foil Tape we also supply SuperQuilt with a Lifetime Guarantee!
Ecohome Insulation offers YBS SuperQuilt at the Lowest online trade pricing. Furthermore, when spending over £500 + VAT we also include a FREE Heavy Duty Staple Gun and 5,000 x 14mm Staples.
If going through building control, or aiming to achieve certain U-values, it is essential to the original, fully certified SuperQuilt!
Currently In Stock
SuperQuilt Lite, which is only 32mm thick and made up of 9 premium flexible layers, provides excellent thermal performance thanks to its distinct layer arrangement. This adaptable, thermally effective multi-layered foil is the perfect answer to all of your insulation needs and will reduce installation time and costs while maximising living space. SuperQuilt Lite is more of a DIY version of the Original SuperQuilt.
Currently In Stock
SuperQuilt Trade is currently in stock by Ecohome Insulation. SuperQuilt Trade differs from the original SuperQuilt, due to SuperQuilt Trade having non-true aluminium outer layers. SuperQuilt Trade also does not hold any of the BDA Accreditation, unlike SuperQuilt.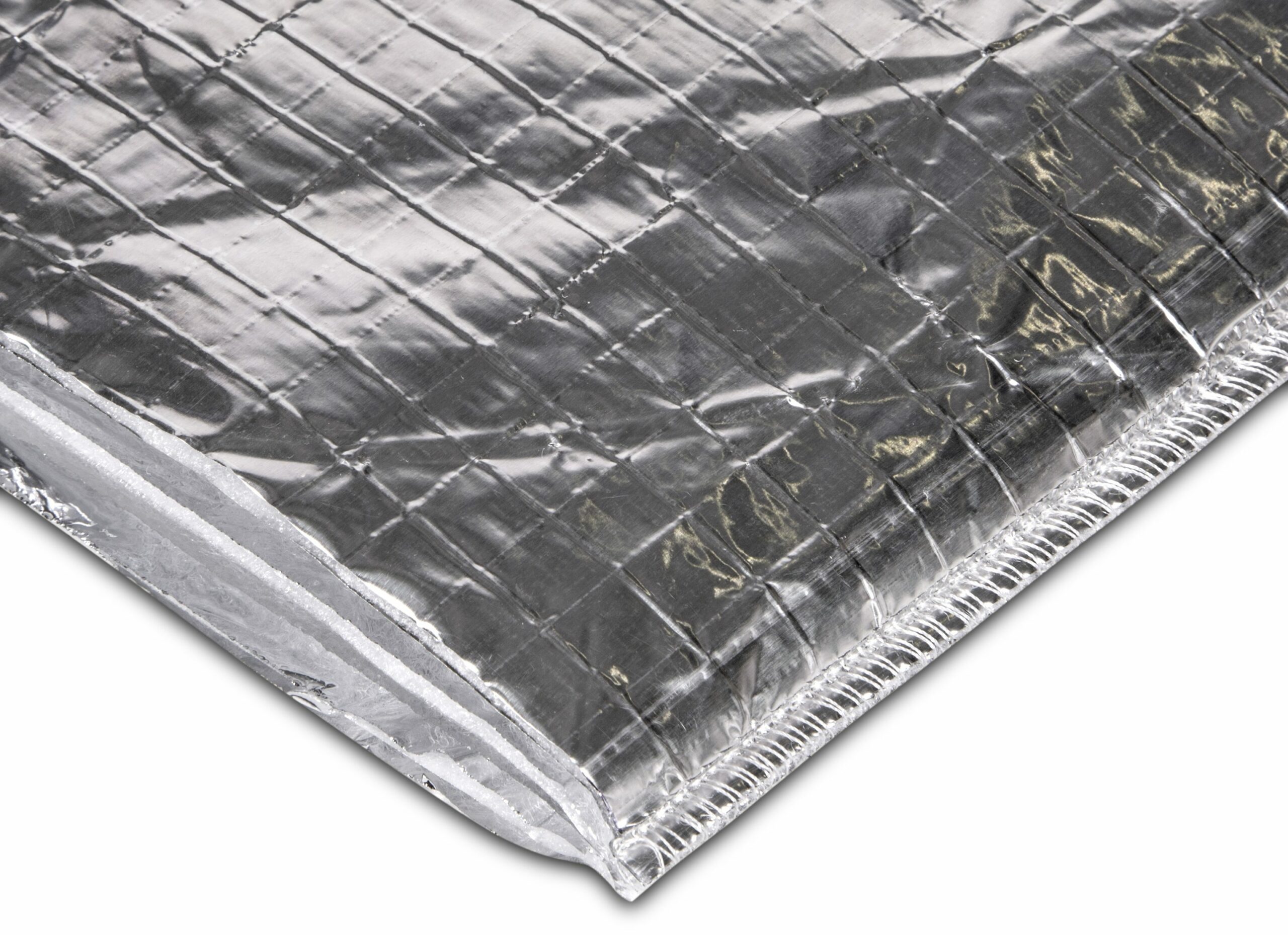 What components makeup up the original SuperQuilt?
True Aluminium Foils serve as the outer and inner layers of SuperQuilt's 19 itch-free layers. Recycled waddings, PE foams, and other reflective foils make up the remaining 17 layers.
Do any SuperQuilts require PPE?
When cut or installed, SuperQuilt doesn't produce any poisonous gases and doesn't contain any harmful fibres. No masks, PPE, or gloves are necessary when installing SuperQuilt.
Are air gaps required for SuperQuilt?
We advise a minimum cavity/batten of 25mm on both sides of the insulation for optimal thermal performance. This enables the product to grow and mature. There would be a 20% reduction in performance if a cavity were removed.
Does the original SuperQuilt resist fire?
A Class E Euro Fire Classification Certificate for SuperQuilt is available. Although the genuine metal exterior layers of SuperQuilt are flameproof, the product is not completely fire-proof; if a bare flame contacts it, it will smoulder rather than spread.
What distinguishes SuperQuilt from SuperFoil?
Compared to SuperFoil's range, which uses metalized foils and has a lower Fire Classification Grade, SuperQuilt is a luxury product with pure Aluminum foils as the outer layers (Fail) In comparison to SuperFoil, SuperQuilt is also fully certified and made in the UK.
Does SuperQuilt MultiFoil Insulation adhere to building codes?
SuperQuilt will meet construction regulations on its own in some applications. Although SuperQuilt may not be enough insulation on its own to reach the requisite U-value in walls and roofs.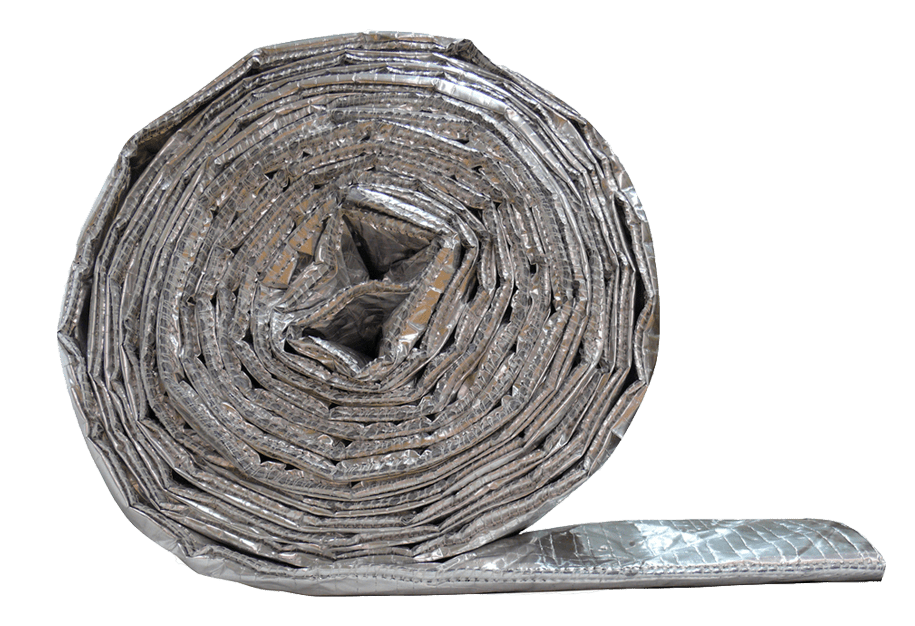 For all our multifoil products, you can use our Free and Easy To Use Online U-Value Calculator to see how our multifoil materials such as SuperQuilt can help assist save on Space, Cost, and Installation Time in your project – Click Here!
With over 1,000 calculations for Roofs, Walls, and Floors it has never been easier to Save on Cost, Space, and Installation Time using our High-Performance Multifoil Insulation materials.
To order SuperQuilt at an even lower cost see our Trade Pallet Deals which include everything you need to install such as ThermaSeal Foil Tape, Heavy Duty Staple Gun, and 5,000 x 14mm Staples, Click Here!
Delivery and Contact Information
We also offer FREE next working day delivery to the UK Mainland on orders placed before 2 pm.
You will see from our excellent Trust Pilot reviews, that all our insulation products receive extremely positive feedback <<take a look>>.
If you require any further assistance at all, you can contact us – Send us a Message or Requesting a Callback or order online or via phone at 0114 323 0029
Take a look at our Instagram @ecohome_insulation
trending_flatBack to News